NOTE: Non-US citizens must register no later than Monday to be admitted into the MITRE building.
October 17 — 5:30 PM – 8:30 PM @ MITRE McClean Campus Location is MITRE McLean Campus, Building 1 – 2H311.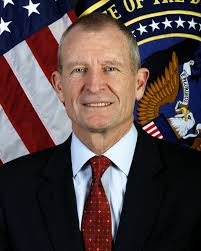 Please join us for an exciting presentation on national 5G strategy by former DNI and retired 4-star admiral, Dennis Blair. Blair has been leading research for the Trilateral Cyber Security Commission, an initiative made possible by a generous grant from Sasakawa USA. The group is preparing a report on 5G national security strategy that addresses the threat of Chinese-dominated 5G cellular infrastructure for the West and recommends strategies to deal with both China's unfair trade practices and economic espionage as well as the nation-state cyber threat to 5G as it becomes a new critical infrastructure. Blair started this effort with the help of former DHS Secretary Michael Chertoff, and former RSA Chairman, Art Coviello. He will go over the reports' findings and recommendations and looks forward to lively discussion through out.
Registration closed. Please download your Parking QR code for access to the MITRE parking garages here.
MITRE, our host for this event, conducts a background check on attendees. For this reason, attendees without US citizenship must register three days (14 October) prior to the event.
Dinner at 5:30pm
Chapter Business 6:00-6:15pm
Speaker 6:15pm-8pm (or so)
As Director of National Intelligence, from January 2009 to May 2010, Blair led sixteen national intelligence agencies, managed a budget of $50 billion and provided integrated intelligence support to the President, Congress, and operations in the field.
Blair was president and chief executive officer of the Institute for Defense Analyses (IDA), a federally funded research and development center, that supports the Department of Defense, the Department of Homeland Security, and the Intelligence Community, from 2003 to 2006.
During his 34-year Navy career, Blair served on guided missile destroyers in both the Atlantic and Pacific fleets and commanded the Kitty Hawk Battle Group. Ashore, he served as Director of the Joint Staff and held budget and policy positions on the National Security Council and several major Navy staffs. Prior to retiring from the Navy in 2002, Blair served as Commander in Chief of the U.S. Pacific Command, the largest of the combatant commands.
Blair co-chaired the Commission on the Theft of American Intellectual Property and published a series of recommendations in May 2013. He is the author of Military Engagement: Influencing Armed Forces Worldwide to Support Democratic Transitions, published in June 2013.
ADM Blair steps down as the Chairman of Sasakawa USA, a DC-based think tank focused on US-Japan relations, this month, but will continue is a Distinguished Senior Fellow (Non-Resident). At Sasakawa USA, Blair works regularly with our 2019 President, Bud Roth, who is also helping with the 5G draft.+ Google Calendar+ iCal Export
Date and Time
Date: October 17 Time: 5:30 PM – 8:30 PM
Venue
Mitre McLean Campus 7525 Colshire Drive
McLean, VA 22102 United States + Google Map Phone: (703) 983-6000 Website: https://www.mitre.org/sites/default/files/pdf/mclean-campus-map.pdf